Voice your opinions and get paid!
Sign up
Fill out a brief survey to provide us with basic demographic information and your phone number so we can text you questions.
Participate
Text us back your responses to the survey questions we will send you once a week over a 12-week period.
Get paid
You'll earn $5 for completing the sign up form and then $1 per poll that you complete for a total of $15 for each 12-week session you complete.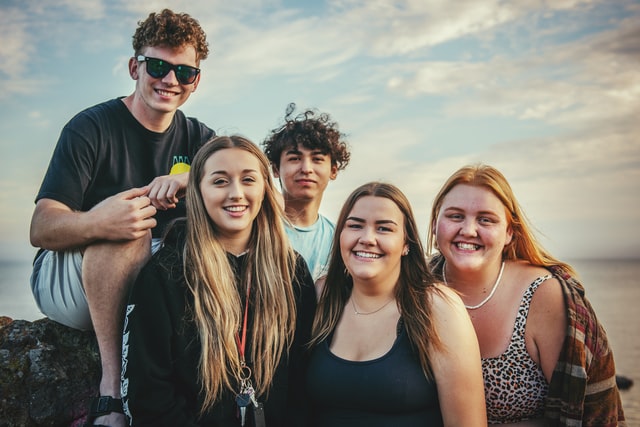 Our research team uses your responses to inform policymakers and community leaders in real-time about the needs and priorities of youth. MyVoice asks youth to "Tell us what you really think!" to inform policy and practices today. 
Sign up now to join our 2024 cohort of youth! You'll earn your first $5 Amazon credit just for signing up and will receive your first gift card after you complete a 12-week poll session. If you sign up now, you will receive your first texts from MyVoice in early 2024.
Participant Frequently Asked Questions (FAQs)
Is this real?
Yes! MyVoice is a national text messaging poll of youth aged 14 to 24. This study has been approved by the University of Michigan Institutional Review Board (HUM00119982).
Am I eligible?
In order to participate, you must be between the ages of 14 to 24, live in the United States, and have an active cell phone number.
How do I participate?
If you register to participate in MyVoice and are eligible, we will text you 2-5 questions each week (for 12 weeks in a row), on a different topic. All you have to do is text us back your opinions and thoughts.
What do we ask about?
Our questions focus on health- and policy-related issues that are important to young people. Sometimes, we'll also ask you about news happening in real time, like pop culture and current events.
How do I get paid?
You'll be paid in the form of Amazon gift cards. You'll earn $5 for completing the sign up form, and then $1 per poll that you complete. Your Amazon gift card credit will be texted to you as a code every 12 weeks. If you complete all 12 weeks, you get a $3 bonus! That adds up to as much as $15 every three months. Not bad for just texting us your opinion 😉
How is my information being kept confidential?
All MyVoice data (including text message responses, name and address information) are kept strictly confidential. We never release individual information about any participant to anyone for any reason, period. We do not sell, rent or lend our contact information to any other group. Only MyVoice staff, who perform updates to the files and send out text messages, have access to your contact information.
We store all the text messages responses on an online database with a very high level of security. Companies like Apple and Ebay trust this database service to keep their data secure. Only our study team has access to the data.
MyVoice is an IRB-approved study (IRB HUM00119982) from the University of Michigan, led by Dr. Tammy Chang, MD, MPH, MS, associate professor of family medicine. Download the full IRB consent form (PDF) for additional information. Reach out to the study team anytime at hear.my.voice@umich.edu.
Will someone read my text messages?
Speaking of confidentiality, most of the time there will not be a human looking at your responses. We are going to use a computer to analyze it and learn from you!  This means that if you have an urgent question about the study, make sure to contact us using the information on the "contact us" page.
When will I get my first payment/Amazon credit?
You will get your first Amazon credit payment after the completion of the first 12 weeks of surveys. This means that at the end of the first 12 surveys, you can earn up to $20 per survey season = $5 + $12 (dollar per survey) + $3 bonus if you answer every survey in the season. If you don't answer all 12 weeks, you will still be paid with the rest of the MyVoice cohort, and the end of the 12 weeks. There are several survey seasons–which means you can earn up to $60 per year.
What do I do if I don't want to participate anymore?
Just text back the word STOP to our questions. You will not get any more text messages from our study. Thanks for participating!
I changed my phone number. How do I keep participating?
No problem! Just contact us and let us know your new phone number! Call, text or email us at hear.my.voice@umich.edu or 734-249-9276.
What if I'm not comfortable answering a question?
Feel free to skip it by just texting "skip". We do not want you to feel uncomfortable at any point. And don't worry, you will still get credit for completing that week's questions even if you skip questions. If you have any feedback for us about any of the questions, email or text us at hear.my.voice@umich.edu or 734-249-9276.
How do you figure out which questions to ask?
Good question! We try to ask questions about the things that are important to you and you might even notice we ask you what those things are! We also have a bunch of researchers and young people on our team who are interested in different topics. Please let us know if we miss a topic that is important or affects you! We would love to hear from you!
How do I prevent other people from seeing my answers?
We might ask you some sensitive questions. You might not want other people to see your responses to these questions. You could either lock your phone with a password or delete the text messages you send us afterwards.
Got another question not listed here?
Email or text us at hear.my.voice@umich.edu or 734-249-9276 and we will get back to you!