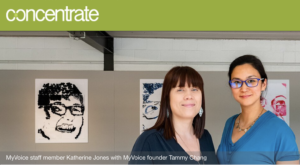 The MyVoice text message polling system used to collect real-time data from more than 1,800 young people (ages 14-24) nationwide was featured in a story appearing the June 10 edition of Concentrate, a weekly online newsmagazine focusing on Washtenaw County, Michigan.
As MyVoice has been working in tandem with Washtenaw Community Mental Health (WCCMH) to address mental health issues, the story by Jaishree Drepaul-Bruder told the story on several fronts.
Tammy Chang, who heads up the MyVoice program through the University of Michigan, explained how the program works.
"Youth have what we consider an invisible identity," Chang said in the article. "They're experiencing so many things that may be difficult to articulate, there are things they may not want to articulate with someone personally, and there are things no one ever asks them to articulate."
Lisa Gentz, WCCMH program administrator for millage initiatives, was also interviewed in the piece, speaking of how MyVoice had the potential to raise awareness.
Doug Coombe was photographer for the story.
Concentrate is published online by Issue Media Group.