In 2018, there were 3.62 million users of e-cigarettes among middle and high school students. From 2017 to 2018, e-cigarette use increased 78% in high school students(from 11.7% to 20.8%) and 48% in middle school students (3.3% to 4.9%) according to the 2018 National Youth Tobacco Survey. The precipitous increase in e-cigarette use among youth led the Surgeon General to, in December 2018, declare that vaping had become an epidemic among the nation's youth. Nationally, 85% of daily smokers begin smoking daily before the age of 21.
To address this important area of public health and policy, MyVoice has asked our cohort of over 1,800 several surveys on use of e-cigarette and thoughts on raising the minimum age to purchase tobacco products from age 18 to 21, a bill that has passed in over 400 U.S. cities called Tobacco 21.
Tobacco use remains a major public health concern in Michigan, causing over 16,000 deaths each year. Compared to the national average, 20% more Michigan 12th graders have smoked a cigarette, smoked a cigar, used smokeless tobacco or vaped an e-cigarette in the last month. Of young people who smoke, 2 in 3 long-term users will die early of smoking-related causes.
In an effort to reduce tobacco use and prevent its detrimental health effects, Tobacco 21 policies aim to limit youth access to tobacco products (including cigarettes, e-cigarettes and other tobacco products) by restricting sales to people aged 21 or over. More than 400 cities and counties and 7 states have adopted Tobacco 21 policies.
In 2019, a team of researchers at the Institute for Health Policy and Innovation and the School of Public Health at the University of Michigan partnered with MyVoice to conduct a rapid, comprehensive policy analysis on the potential effects of Tobacco 21 legislation in Michigan. The policy sprint integrated policy effect simulation analyses, case studies of 4 Ohio communities that have implemented T21 and MyVoice data–including a set of survey questions that collected youth thoughts on tobacco access and legislation. MyVoice data and qualitative themes were used in the policy group's deliverables, which included an open access white paper and policy brief. These recommendations were distributed to stakeholders across the state.
The work was discussed on Stateside in late April 2019, an NPR program on Michigan Radio. Just days after the group's policy recommendations were shared, the Michigan Senate voted on bills drafted to limit access to e-cigarettes and "liquid nicotine" products from minors, Senate Bills 106 and 155.
Vaping, e-Cigarettes, and Juul
Currently research on teens, young adults, and vaping is being conducted by a team of MyVoice researchers, including Georgia Wood, an undergraduate student at the University of Michigan, Arrice Bryant, a fourth-year medical student entering residency in obstetrics and gynecology, and Tammy Chang, MyVoice founder and adolescent health researcher.
In May 2020, Georgia and the team shared MyVoicers perspectives on Juuling in a paper that was published in the journal JAMA Pediatrics, titled "Youth Perceptions of Juul in the United States." 
READ ALSO: MyVoice explains Why Youth Juul in a new JAMA Pediatrics paper
Georgia presented her work at the 2019 Undergraduate Research Opportunity Program (UROP) symposium. Georgia's research was conducted with support from Arrice Bryant and Tammy Chang, who served as her mentor. Her research poster was titled "Youth Knowledge and Perceptions of Juul." We asked 1,212 MyVoice respondents (average age 18.4 years old, SD 2.85 years) the following questions: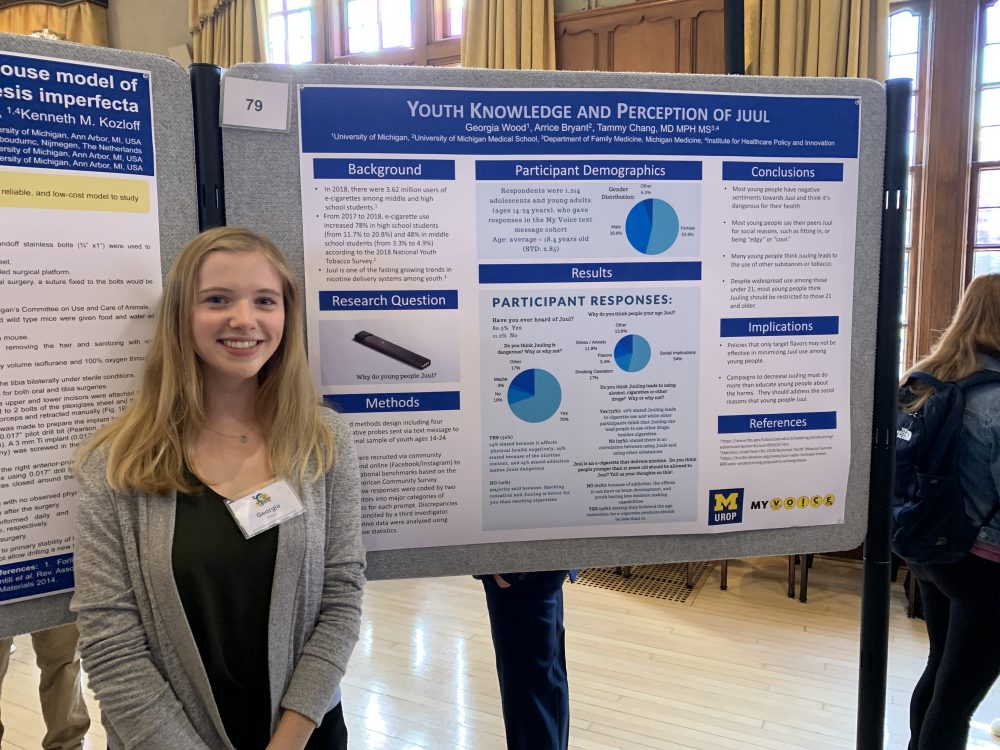 Have you ever heard of Juul?
Do you think Juuling is dangerous? Why or why not?
Why do you think people your age Juul?
Do you think Juuling leads to using alcohol, cigarettes or other drugs? Why or why not?
Juuling is an e-cigarette that delivers nicotine. Do you think people younger than 21 years old should be allowed to Juul? Tell us your thoughts on this!
Presentations and Publications
Wood GG, Waselewski ME, Bryant AC, Sonneville KR, Chang T. Youth Perceptions of Juul in the United States. JAMA Pediatrics. April 2020. doi: 10.1001/jamapediatrics.2020.0491.
Youth Knowledge and Perceptions of JUUL
Wood G, Bryant A, Chang T. University of Michigan Undergraduate Research Opportunity Program Spring Symposium, Ann Arbor, Michigan. April 2019.
Youth Perceptions of Juul in the United States
Wood GG, Waselewski ME, Bryant AC, Sonneville KR, Chang T. JAMA pediatrics. 2020 May 4.